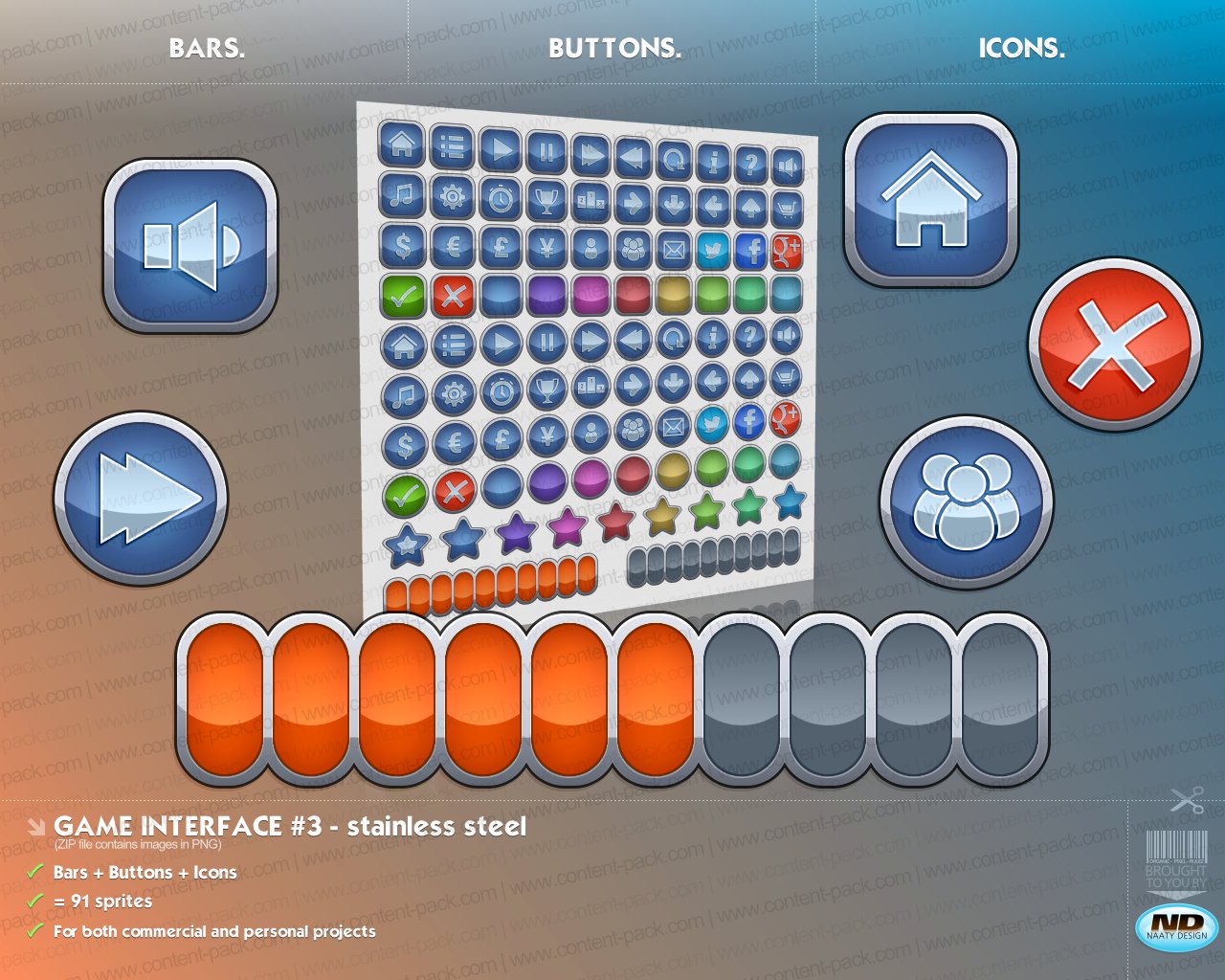 Everything you need to set up a full user interface from the energy bar to the pause button.
This pack has been designed for high resolutions and looks crisp and clean on Retina displays.
Bars + Buttons + Icons,
For both commercial and personal projects,
No reselling, no redistribution.
.zip archive contains 1 file in .png format featuring 91 sprites (one 2048×2048 Sprite Sheet).
→ To take a look at the graphic assets in scale 1:1, right-click on the picture to open it in a new tab or click here.
Add that little extra to improve your game(s)!
Version
: 1.0
Size
: 1.60MB
The set includes :
Home
Menu
Play or Resume
Pause
Next or Step Forward
Before or Step Backward
Replay or Reload
Info or About / Privacy Policy / Credits
Help or About / Privacy Policy / Credits
Sound – Audio Volume Settings
Music – Audio Volume Settings
Options or Settings
Time or Clock / Stopwatch
Achievements – Trophy or Scores Chart or Game Center
Achievements – Podium or Game Center
Four directions / Arrows – Left / Down / Right / Up
Shopping Cart / Store
Currency / Buy $ Dollar
Currency / Buy € Euro
Currency / Buy £ Pound
Currency / Buy Y Yen
Player – one user
Player – More users
Contact or E-Mail / Website
Social Network – Twitter
Social Network – Facebook
Social Network – Google +
Action – Yes / Ok
Action – No / Cancel
Reward or Achievements – Stars
Gauge / Bar – Energy / Health / Heart / Loading / Music / Power / Shield / Sound / Time
If you enjoy this pack, a link to Royalty Free Content Packs and/or credits would be appreciated.